Interior refurbishment and modification
Owner Design, supported by AeroVisto
Outstanding results require outstanding and trusted partnerships. On the aircraft owner side we worked with Jet Level. The overall project responsibility for the aircraft refurbishment was with our partner Atlas Air Service, one of Europe´s largest full-service provider for business jets. AeroVisto Group's focus was on what we do best: full interior refurbishment for all size of aircraft. Together, we have bundled our complementary competences behind one shared goal: understand and respect our client's very personal needs; and to collectively deliver an extraordinary result that exceeds his expectations.
AeroVisto Group initiated the planning-process of the interior refurbishment together with the owner representative and with the involvement of the owner direct. In this setting, initial dialogues evolved quickly into a relationship of mutual trust. The direct involvement of the owner allowed an effective design process, provided the fact the owner had his own strong vision about how the future experience on board should look and feel. Provided the envisioned use-case for the aircraft, it quickly became clear that the owner´s vision for his new interior must be something exceptional: "The Experience of Ultimate Luxury" expressed though a bold interior design skillfully executed at highest level of craftsmanship with a selection of the finest and most innovative materials in the marketplace. An experience designed for personal use, whereas still functional and durable enough that would allow the owner to charter the aircraft to 3rd party. Before we reached that point, AeroVisto established together with the owner´s vision a series of renderings and visualizations. Where words fail to communicate visions, mood-board does the trick. Preparing a mood-board that captures inspirations, trends, colors and materials in one central place turned out to be an effective way to advance the process. As a powerful common vision, we pinned a picture of the Vision Mercedes-Maybach 6 Cabriolet in black/white. Creating Seamless Mobility Experiences through design thinking stood at the core for the realization of this aircraft interior refurbishment project.
a picture is worth a thousand words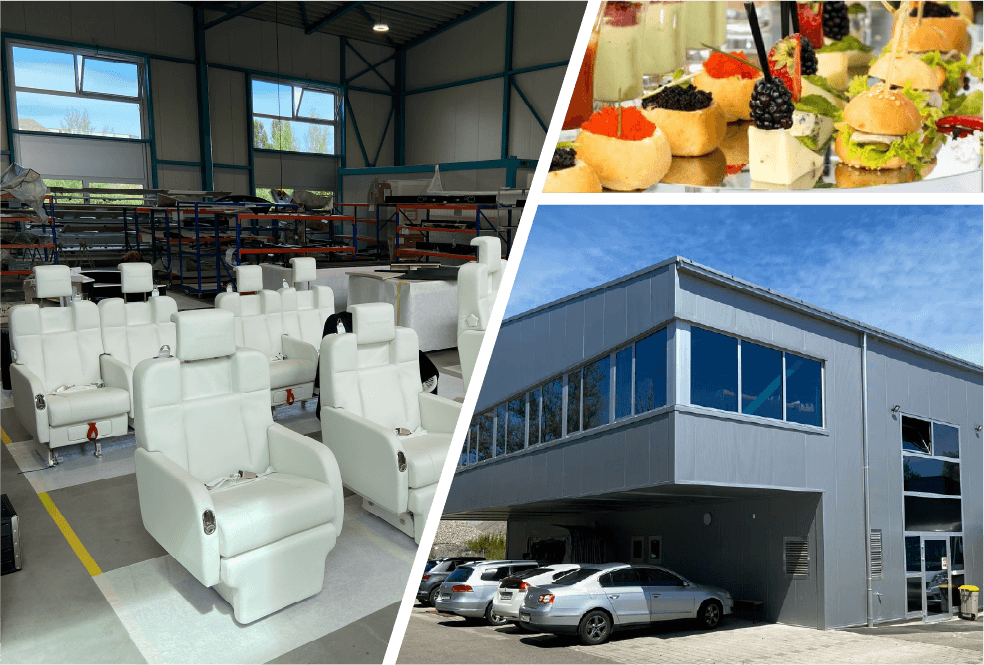 An aircraft interior project in color-concept Crystal White & Piano Black is something very special indeed. Or as many interior designers would call it:
"The Ultimate".
Choosing only the finest interior materials with the most advanced functionalities was another important success factor. Wood veneer in high-gloss Piano Black and premium leather VIP seats in Crystal White are highly desirable from an aesthetical standpoint but can be a delicate choice for real-world use.
AeroVisto knows that; and unlike others, we do not leave our clients alone with no solution at hand after hand-over of the aircraft.
We at AeroVisto believe that creating a great product is important, but not sufficient. The Experience of Ultimate Luxury goes beyond; that striving towards our mission of delivering "Best in Customer Experience" lies beyond the product as such. A special event in AeroVisto's dedicated Delivery Center infrastructure was organized for the quality review of all refurbed interior components. An event our partners and the owner in person attended, is example of how we interact with partners and clients.
the experience of ultimate luxury
Our network partners Atlas Air Service and Jet Level have once again proven to be mission-critical to the successful realization of this high-end interior refurbishment project. We have experienced the close collaboration with the Atlas Engineering-Teams very professional and positive at all times of the project. The interfaces and information flow were assertive and effective, allowing AeroVisto to effectively contribute its interior competence to the greater scope of this aircraft refurbishment seamlessly from start to end. This frequent and trustful direct with the owner and all stakeholders involved was a highlight for all parties involved. Finding and delivering solutions to meet all the owner's wishes was no doubt a highlight of this project, resulting in attention to detail and a high degree of individualization. Latter included logos, cushions, protection mats, tray inlays and other accessories, all designed and crafted in sync with the overall design intent of the aircraft interior.
Second life for a long-serving aircraft.
This Cessna Citation XLS has been flying for a long time for the numerous satisfied customers of Jet Fly — a successful smaller aviation operator from Linz in Austria. Now, the right moment has come for a refurbishment of a particular special kind.
read more »