veneering
varnishing
revarnishing
Beautiful wooden decors are often still the highlight of an aircraft interior. It looks elegant, gives a warm ambiance, and provides a unique touch to the cabin of a private and business jet. Even though it is considered standard within the interior refurbishment process, we still pay special attention to the re-veneering works.
Reveneering of the wooden decor of an aircraft cabin requires a lot of time, money, and effort. Therefore, thorough preparation is necessary to ensure our client's satisfaction. However, we will go a step further. For us at AeroVisto, re-veneering is more than just exchanging wooden decors with new standard sets and patterns; We accompany our customers throughout the entire decision-making process and use our high skills to implement even exceptional wishes in the highest quality.
As part of the interior refurbishment process, we first examine the aircraft that needs to be remodeled. With a close collaboration with our customer, we inspect the jet and discuss all requests and ideas. At this stage we will give our client an overview of the possibilities and start planning the details. Regarding the wooden decors, we offer a wide variety of patterns and types of wood. Our customers even have the possibility to choose the exact piece of wood that they want to be used for the re-veneering in their aircraft. This is what we call the supreme version of customization and is part of our claim to be the best in customer experience.
Since re-veneering is an expensive process in labor and financially, we plan every detail thoroughly. This way we can ensure that there are no unexpected costs, and everything adheres to the set deadlines. Additionally, we provide an all-round support for our clients from the initial planning to the final approval and assembling of the wooden decor.
small details with great effects.
After reveneering, the surfaces must always be varnished again. This includes complex processes with special lacquers. Step by step, the various layers of lacquer are built up, sanded and repainted. Each layer must be sufficiently dried to be able to develop its properties with regard to fire protection and flexibility.
However, revarnishing is also an option if the customer wishes to leave the existing veneer appearance unchanged, but the monuments need to be re-varnished because of defects like scratches, cracks etc. The colour tone can also be changed by using tinting methods.
We work completely with modified polyurethane systems. This enables us to achieve the best results in terms of long-life and sustainable surface quality. Polyurethanes follow the movements of the structures and will not show any cracks during long-term use. Customers are free to choose whether they want matt, silk matt, silk gloss or glossy surfaces.
AeroVisto Interior Services AG is a certified Part 145 EASA Maintenance Organization and a Part 21G EASA Production Organization and delivers the needed documentation with every service. This includes the Engineering Order, STC, Major Change, Minor Change Certification and EASA Form 1. We take care about the complete coordination of the certification including flammbility sampling and testing and interaction between our production engineering and the corresponding team of the approved EASA 21J Design Organisation.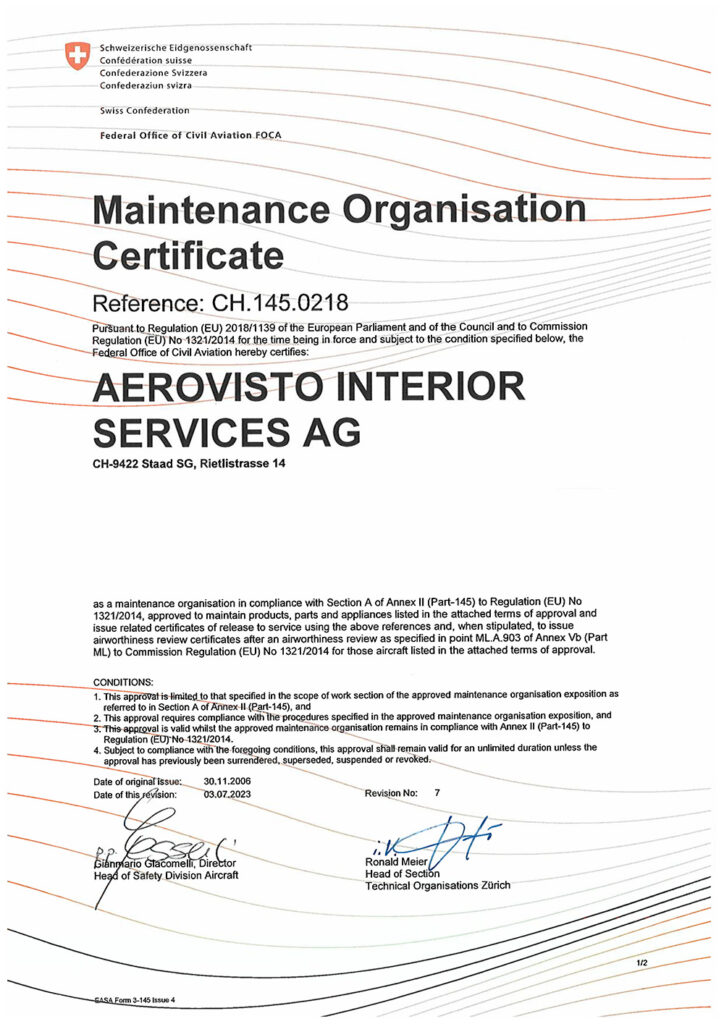 film applications as an alternative.
Wooden decor gives the interior of a business jet a luxurious look. However, it is not always possible to re-veneer due to financial and time restrictions. In this case film applications are a great alternative to re-veneering. As an expert in interior refurbishment of business jets, we are happy to advise on the different possibilities available.