approved competence for light and midsize jets
Light and midsize jets are highly appreciated in general aviation for several reasons. They provide significant cost efficiencies, offer greater operational flexibility, are ideally suited for short to medium-haul flights, and are known for their adaptability to respond quickly to changing business or personal needs.
We are well versed in this class of aircraft and offer you approved competence for light and midsize jet refurbishment projects.
Why? We have enjoyed working on several of these planes over the years and know their value very well. With a Cessna, you get a real bang for your buck. And so, it is no surprise that the fan community of this aircraft brand is quite large.
We are pleased about every single Cessna that we upgrade. After all, the enthusiasm is always great when after the refurbishment, we can hand over to an owner a unique Cessna that reflects a lot of personality and individuality.
With this Cessna Aircraft Special, we want to share our enthusiasm for these great airplanes. On the one hand, we would like to present you a few realized projects – but also show solutions and options that are especially interesting for owners of Cessna business jets.
Upgrade your
favorite piece
We know that Cessna owners love their machines. Do you feel the same way? If so, upgrade your favorite piece to make it a true gem and one-of-a-kind. The options are many. To better understand what we can do for you and your Cessna, we've prepared some client cases. They show the highlights from recent refurbishment projects.
We look forward to hearing about your wishes and ideas to give your Cessna aircraft a unique and personal touch. Let us know, and we will get to work on realizing your vision as soon as possible.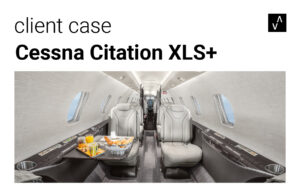 Second life for a long-serving aircraft.
This Cessna Citation XLS has been flying for a long time for the numerous satisfied customers of Jet Fly — a successful smaller aviation operator from Linz in Austria. Now, the right moment has come for a refurbishment of a particular special kind.
Weiterlesen »
The Citation Jet 2 offers great comfort and practicality. No wonder it is one of the most popular light jets, and an ideal option for small groups with light luggage on flights of up to 3 hours.
Weiterlesen »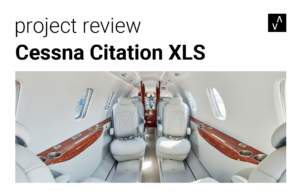 A Cessna Citation XLS in cooperation with Air Hamburg? This simply had to be a project that ran absolutely smoothly. Why? Well, this was the seventh XLS that we have worked on together in the past few years. During this time, a great partnership has developed.
Weiterlesen »
AeroVisto Interior Services AG is a certified Part 145 EASA Maintenance Organization and a Part 21G EASA Production Organization and delivers the needed documentation with every service. This includes the Engineering Order, STC, Major Change, Minor Change Certification and EASA Form 1. We take care about the complete coordination of the certification including flammbility sampling and testing and interaction between our production engineering and the corresponding team of the approved EASA 21J Design Organisation.