— interior upgrade to Gen 2 design
Cessna Spanish
Citation Service Center, S.L.
Design upgrade
for a second lifetime
This Cessna Citation XLS has been flying for a long time for the numerous satisfied customers of Jet Fly — a successful smaller aviation operator from Linz in Austria. Now, the right moment has come for a refurbishment of a particular special kind.
Last year, Jet Fly added another aircraft to its fleet — a Cessna Citation XLS Gen 2. The new aircraft, with a brand-new cabin in a fresh and modern design, prompted the company to consider giving the long-serving XLS 560 an interior upgrade and, thus, a second life. So the goal was set: a passenger cabin that, in terms of appearance and comfort, was in no way less than the Wichita design of the new XLS Gen 2.
Bringing values to a higher level.
This is exactly what we love about our work: Preserving values and bringing them to a new and higher level. So, for a successful project start, our sales team took our mobile showroom and visited Jet Fly in Linz. This way, the material selection could occur on-site, directly at the aircraft.
As Cessna's preferred service partner in Europe, we inherently wanted this project to be realized with a Cessna Service Center. And since the aircraft owner also wanted to use the downtime for a new exterior paint job, the choice finally fell on the Textron Aviation Service Center in Valencia, Spain, where this request could be fulfilled.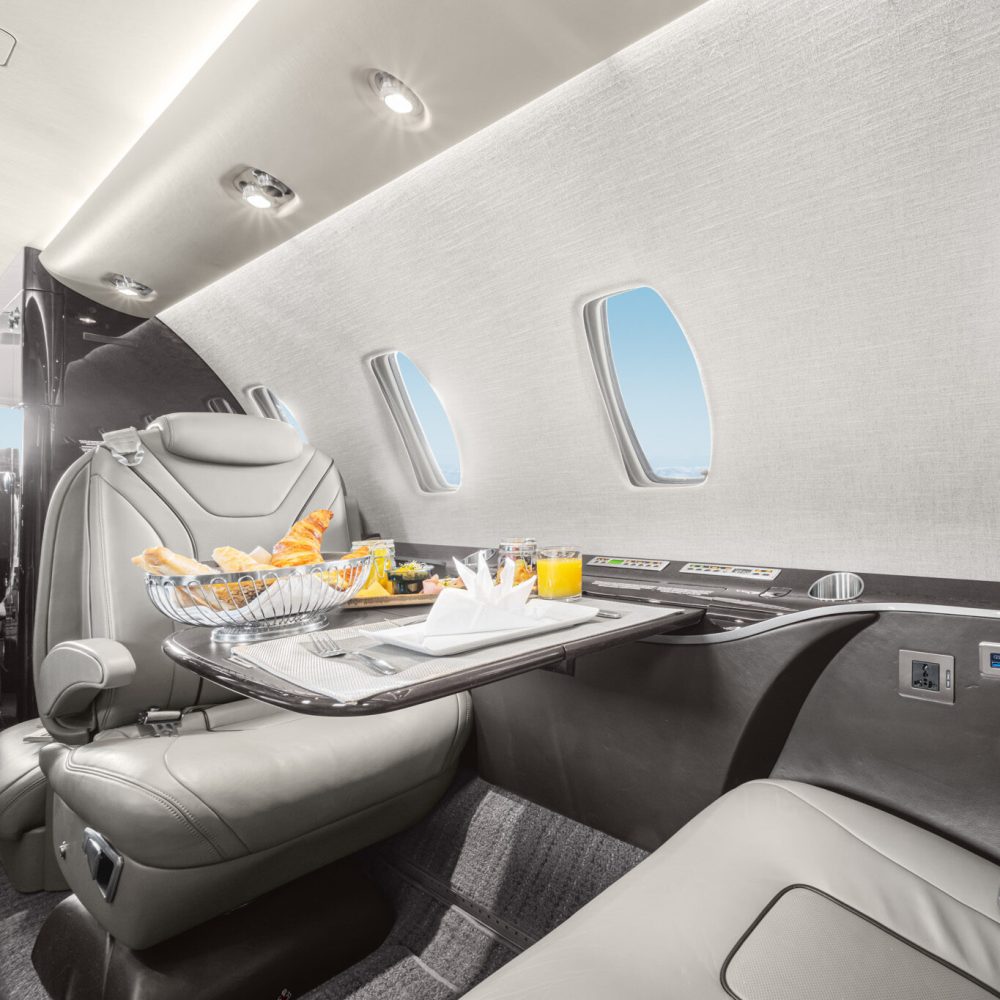 Design transformation — down to the last detail.
After disassembling the cabin in Valencia and transporting the various parts to our manufacturing facility in Staad, our craftsmen and craftswomen could apply their skills and passion to the complete design transformation of this "old lady" — down to the last detail.
Our team closely studied the specifications of the Gen 2 and set to work on the design adjustment and material allocation. It was pretty challenging, as the shape of the seats differed significantly between the two XLS generations. After this part of the work, we gave Jet Fly a first impression of the design transfer's success with a rendering of the cabin in the new design.
An upgrade far beyond upholstery.
The upgrade of this XLS+ goes far beyond the upholstery of the passenger seats. In addition, all parts were replated. The window liners were covered with designer fabric, which we treated and certified for this purpose. The window assys were also fully reworked — painted, upholstered, and fitted with new pleated blinds.
The wood surfaces of the monuments were sanded and tinted to match Gen 2 specifications. The galley has been color-matched, repainted, and fitted with new countertops. The Lavatory got new mirrors — the components were covered in dark brown leather. And since Jet Fly doesn't do things by halves, the cockpit was also completely refurbished and brought up to the Cessna Citation XLS Gen 2 design. This way, the crew also enjoys the redesign.

Hardly distinguishable new splendor.
So, finally, this was the most extensive upgrade we have ever performed on a Citation XLS — a complete upgrade refurbishment with everything that goes with it. The result makes us very satisfied and proud of our work — after this special upgrade, the new interior of the older XLS is hardly distinguishable from the interior of the XLS Gen 2. 
Mission accomplished! Jet Fly is excited to be able to offer its customers a "brand-new" flying experience. We at AeroVisto are pleased to have contributed to making another XLS appear in new splendor.
Design upgrades — a great potential for Cessna owners.
This exceptional refurbishment project shows one thing above all: with the right concept, a modern design, and partners who have the necessary skills, it is possible to turn long-serving aircraft into real gems anew. Jets like this Cessna Citation XLS+, will serve and delight for many more years and flying hours.
And not only our customer Jet Fly is enthusiastic about the level-up of this Cessna XLS+. Also, the employees of Cessna Europe, with whom we have worked, see great potential in design upgrades like this and would like to realize as many refurbishments of this kind as possible with us in the future. We are looking forward to it. For this purpose, AeroVisto is the dedicated partner for Cessna owners — in Europe and worldwide.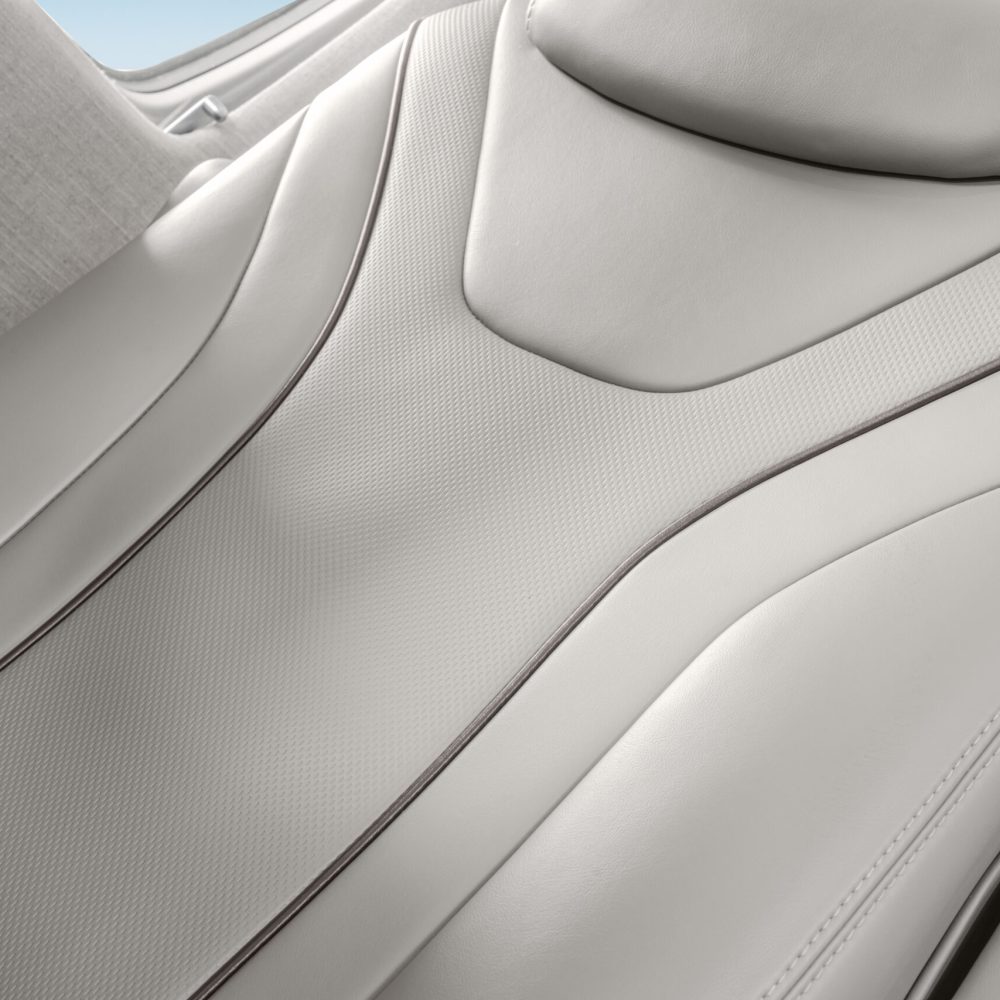 We had to use our full range of skills for this extensive refurbishment. We are pleased that we could use our expertise with this type of aircraft for the benefit and satisfaction of another Dassault customer.
Read more »