exceptional materials for an outstanding design
AeroVisto +
APCO Infratech
General Atomics AeroTec Systems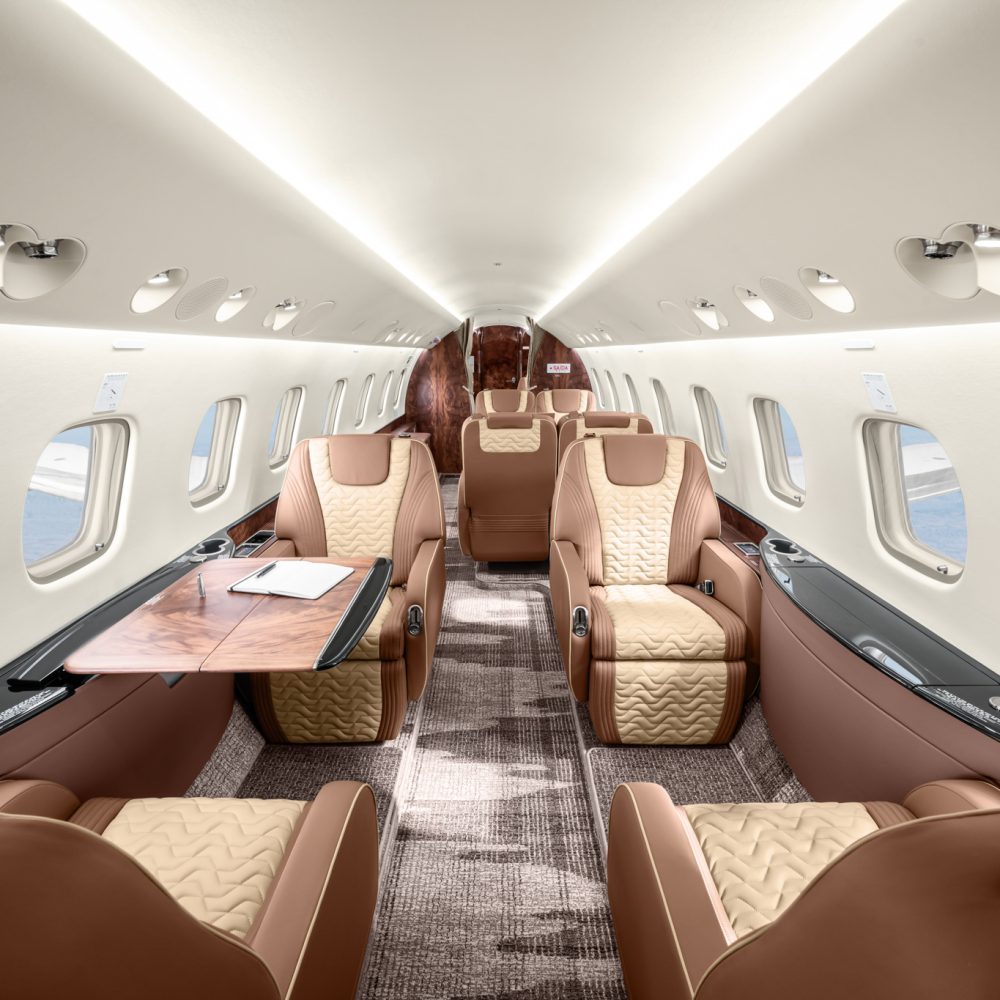 We love the Legacy! After numerous projects that we have already realized in recent years, our team is very familiar with this type of aircraft. The Embraer Legacy 650 is "home turf" for us.
Our vast experience and competence for this aircraft type was one of the reasons why the owner — after an extensive worldwide research — decided to transfer his Legacy from the USA to Europe for interior refurbishment. And so we have put all our heart and all our skills into handling
... exceptional
materials for an outstanding design​.
The extensive, elaborate and demanding veneering works were a particular challenge. The customer chose a very special mahogany wood for his interior. And that was the right choice, because parts in Mahogany Crotch Snowflake Design with high-gloss and matt finish are the absolute eye-catcher of the cabin. To achieve such a harmonious and beautiful overall result, we meticulously measured the cabin to plan exactly where to place which piece of the precious and pricey material. Our team really has shown
... veneering skills
par excellence.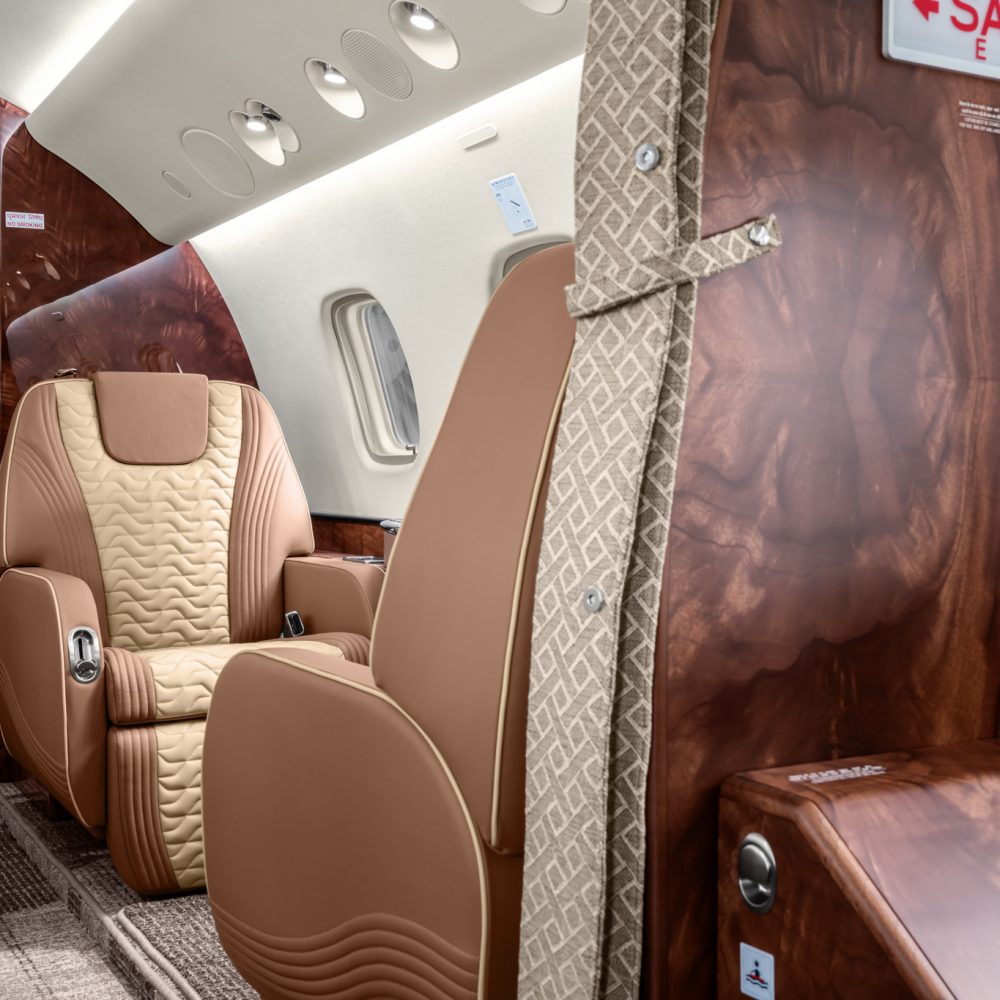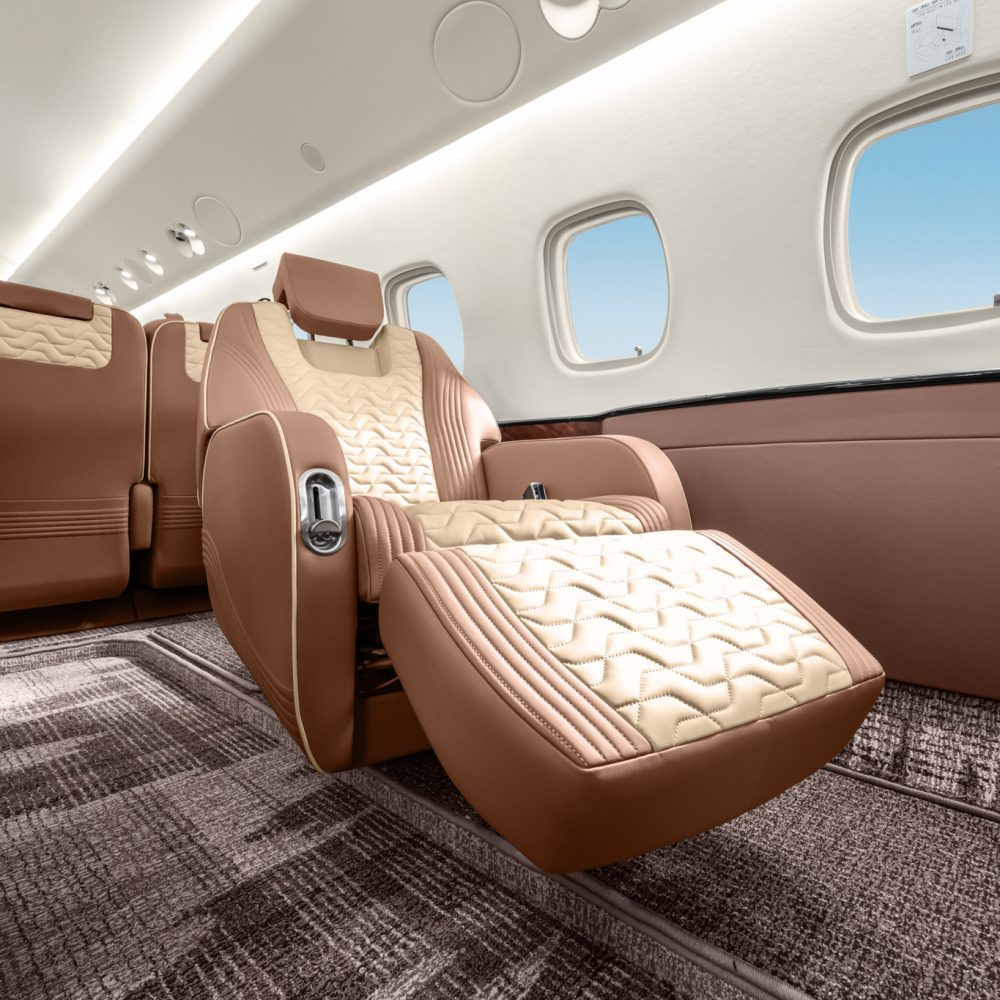 We love diversity. That's why we enjoy working with people from different cultures — to meet their preferences and expectations, reflected in their interior design wishes.
This is very noticeable in the cabin of this Legacy 650, which has its home base in India. The chosen tones of beige and brown, the distinctive custom stitching pattern and the selection of exquisite materials provide a remarkable travel experience. We have done our utmost to realize our client's wish for
... relaxing comfort
for body and soul.
In such an extensive retrofit project as this Embraer Legacy 650, you usually need to look twice to see all the well thought-out design elements of the interior.
Take, for example, the hand-tufted VIP cabin carpet. Made in Switzerland, it captivates with individual colors and design patterns and provides an exciting contrast. The Divan was upholstered with high-end fabric, which was matched in color to the carpet and invites you to linger in comfort. And a special feature awaits the passenger also in the AFT lavatory — walnut veneered surfaces in high-gloss finish. 
This Legacy 650 is a compelling example of 
... individuality down to the last detail.​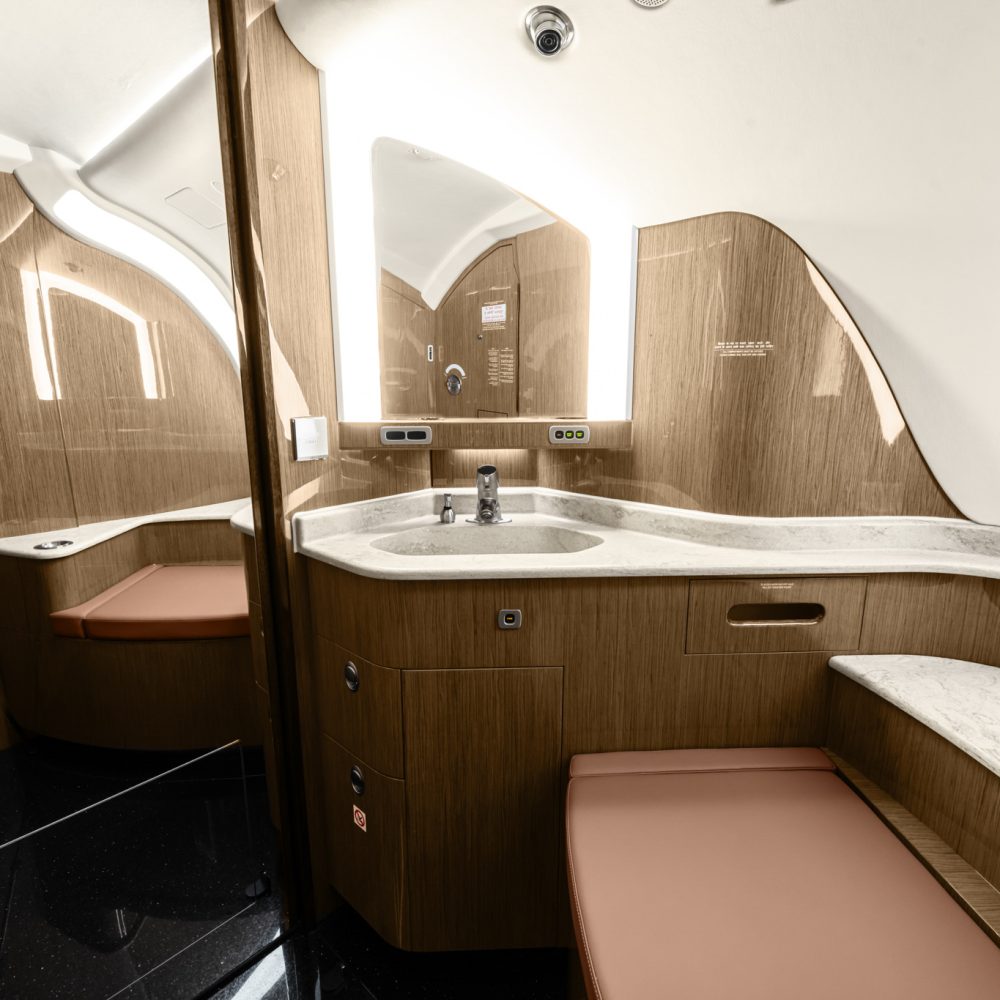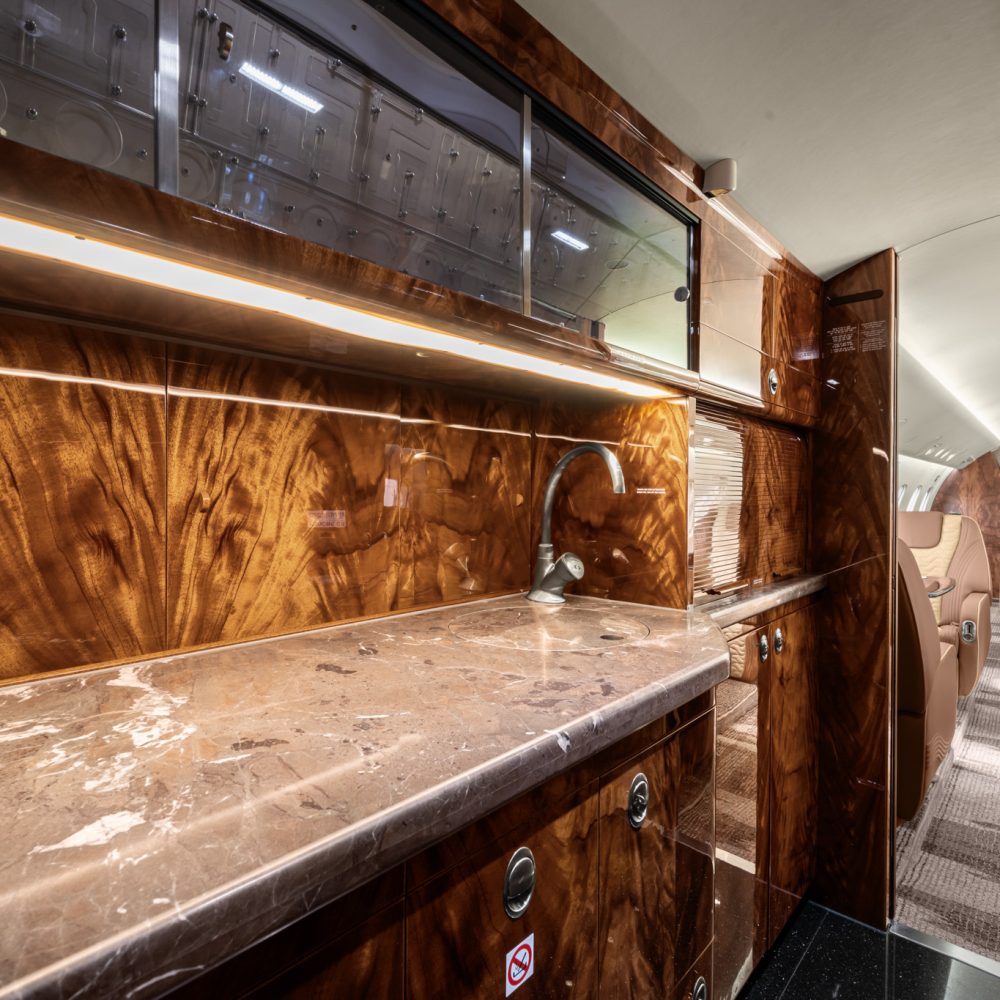 Elegant, practical and easy to maintain — three important characteristics that a business jet interior must have. This was also the focus during the refurbishment of this Embraer Legacy 650.
With stone countertops, stone floors the selective use of film applications in the galley and lavatories, materials were used that correspond to the utility and care of these spaces. And yet, the particularly elegant look was not sacrificed. So, even in the galley, passengers are greeted by the impressive Mahogany Crotch high-gloss finish. We call that a
... perfect balance of design and function.

There is no more elegant and flexible way to travel than in a business jet. In our fast-paced times, more and more people and companies are discovering this option for themselves and their employees. Owners of individual private jets or business jet fleets are therefore increasingly choosing to offer their aircraft on the charter market.
For this reason, we have used leather with Stahl Stay Clean® lifetime+ finishing on this Legacy 650. This greatly simplifies the maintenance of the passenger seat and other upholstered parts. Thanks to modern and innovative solutions, this beautiful jet not only offers the comfort you are looking for, but also has the
... advanced
technology for
flexible operation.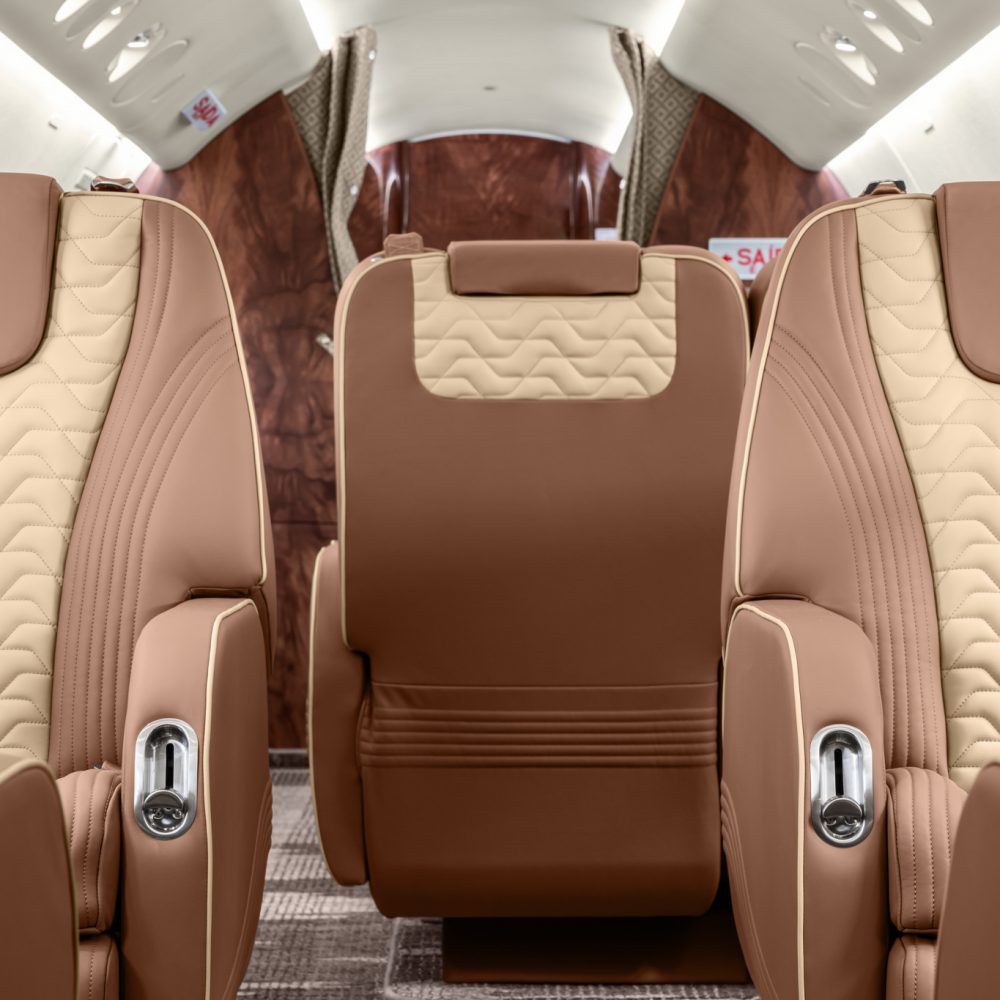 From vision to awe-inspiring reality.
The complete interior refurbishment of a Legacy 650
This Embraer Legacy 650 is the first aircraft in the fleet of a new Indian business charter operator. It was about to become nothing less than a memorable delight to its passenger's eyes. Our client aims to provide an unrivaled experience and an incomparable level of excellence when flying a luxurious business jet. AeroVisto was chosen to refurbish the interior of the aircraft.
The story of this aircraft refurbishment began in the USA, from where the aircraft was transferred to Europe to provide the expected level of service. Ultimately, AeroVisto was awarded the project after a long and comprehensive worldwide research for the right place for this aircraft's extensive refurbishment. The client expected to work with a company that can provide individualized, customized solutions.
We welcomed it in Switzerland and prepared ourselves for this passionate work. Even in our first meeting with the Client, we realized that this client knows precisely what he wants. He brought with him a fully formed design concept – all the specifics were planned in detailed visualizations and renderings, and all materials had already been selected. The client presented us with a mood board, a collection of samples of materials they like that convert their ideas and desires into a tangible palette of options.
And with this, our first task was to provide a persuasive estimation. This was not an easy task because we needed to match our solutions to the design idea delivered by the client. After a short deliberation, the client accepted our estimation, and we set our hands to work.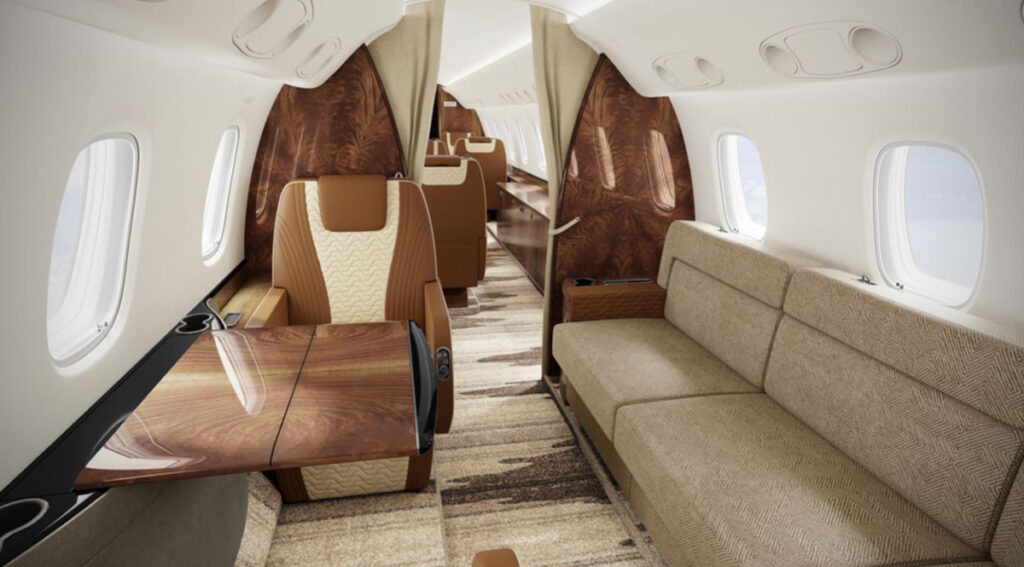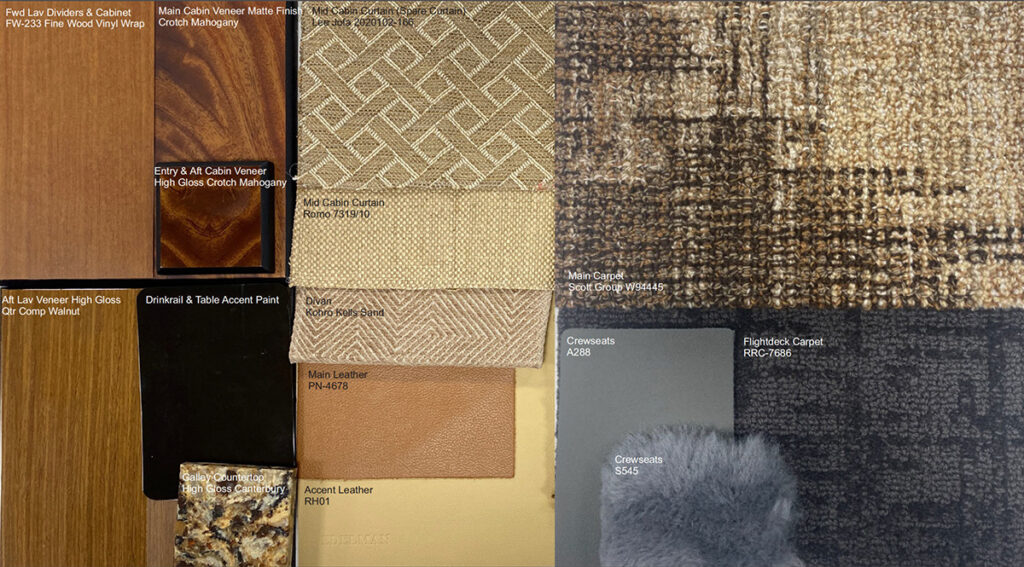 Let's take a look at some of the highlights of our work:
The special veneer is the leitmotif of this work of art, as we like to think about this project. The client wished to have an extremely rare Mahogany Crotch Snowflake Design pattern in the aircraft's cabin. It was characterized by the difficult-to-achieve pattern, only possible when two trees grow together, as twins, from one trunk.
We could locate a beautiful piece to implement and went straight to work on the precision handcrafting. Our team measured the plane and the natural patterns of the raw wood slab and precisely selected which section to place where to create a striking visual effect.
The resulting Mahogany Crotch Snowflake Design with high-gloss and matte finish became the cabin's emblematic signature piece and a true example of our client's dedication to impress their passengers.
Following the given design idea, AeroVisto created an upholstery with colors and stitching patterns meeting together in one unique look to make our client's wishes come true in every detail.
At AeroVisto, it is essential for us to create aircraft cabins that are not only beautiful but also provide years of durability. To this end, we also implemented leather with Stahl Stay Clean™ technology in this project to ensure that the seats are easy to clean while looking brand new for many years to come.
Every detail was crucial in this project. Even the lavatories in this aircraft are stunningly beautiful: walnut veneered surfaces in high gloss finish and Decor Film Application are employed here.
A hand-tufted carpet with a unique design and intricate patterns that matched our client's vision of comfort and elegance is another highlight of this private jet's interior.
We must admit it was a unique vision, and it was our utmost pleasure to work with such a creative client who aims for high levels of excellence and perfection in customized aircraft refurbishment. At AeroVisto, we always strive to provide the best customer experience, always being mindful to complete the service on time and within budget.
We want to take this opportunity to thank the General Atomics AeroTec Systems team once again and especially Christian Karl, who played a key role in managing the extensive refurbishment project, for the excellent cooperation. This project was a pleasure for us to work on, and we look forward to many more in the future.