37.000m mehr Umweltschutz
Die erste Maßnahme besteht darin, dass AeroVisto bei den Luftpolster- und Stretchfolien zu Produkten aus 80%-Recyclingmaterial wechselt. Auch beim Klebeband gibt es einen Wechsel von PVC zu Produkten aus Papier. Aber das ist noch nicht Alles. In den nächsten Wochen und Monaten werden wir proaktiv auf Partnerfirmen, Maintenance-Betriebe und Kunden zugehen, um sie für die Idee zu gewinnen ebenfalls auf Recycling-Verpackungsmaterial umzustellen und Teile beim Versand möglichst so zu verpacken, dass Materialien so oft wie möglich wiederverwendet werden können. Damit stellen wir sicher, dass auch der Abfall der bei AeroVisto ankommen und entsorgt werden muss, die Umwelt so wenig wie möglich belastet.
Wir freuen uns damit einen weiteren Schritt in unseren Nachhaltigkeitsbestrebungen zu gehen und mit Rajapack den passenden Partner hierfür zu haben.
Sie möchten mehr über die AeroVisto Group und unserer Leistungen erfahren? Sprechen Sie uns an:
Wo Können und Leidenschaft aufeinandertreffen, entsteht etwas Wunderbares. Doch wo Handwerkskunst entsteht, fällt in der Regel auch Abfall an. Das merken wir im Business-Jet-Refurbishment ganz besonders.
Fertiggestellte, hochwertig veredelte Flugzeugteile wie Monumente, Sitze und Panels, müssen für den Rücktransport sorgfältig verpackt werden. Nur so kommen sie unbeschadet und sauber am Montageort an. Deshalb spielt gutes Verpackungsmaterial bei AeroVisto eine wichtige Rolle. Immerhin werden pro Jahr an die 20.000m Luftpolsterfolie, 5.000m Handstretchfolie und 12.000m Klebeband verarbeitet. Bedenkt man, dass die Flugzeug-Interieurs bereits gut verpackt bei AeroVisto ankommen, ist es naheliegend, dass Verpackungsmaterial für ein nicht unerhebliches Abfallaufkommen sorgt.
Wo immer möglich und sinnvoll wird Verpackungsmaterial bei AeroVisto bereits wiederverwendet. Da Nachhaltigkeit für uns eine sehr wichtige Rolle spielt, ist uns nicht genug. Deshalb haben wir überlegt, wie wir einen weiteren, spürbaren Schritt in Richtung Umweltschutz gehen können. Dafür haben wir mit Frau Spizzi von Rajapack, unserem langjährigen Lieferpartner für Verpackungsmaterialien, über mögliche Lösungen gesprochen und diese auch gefunden.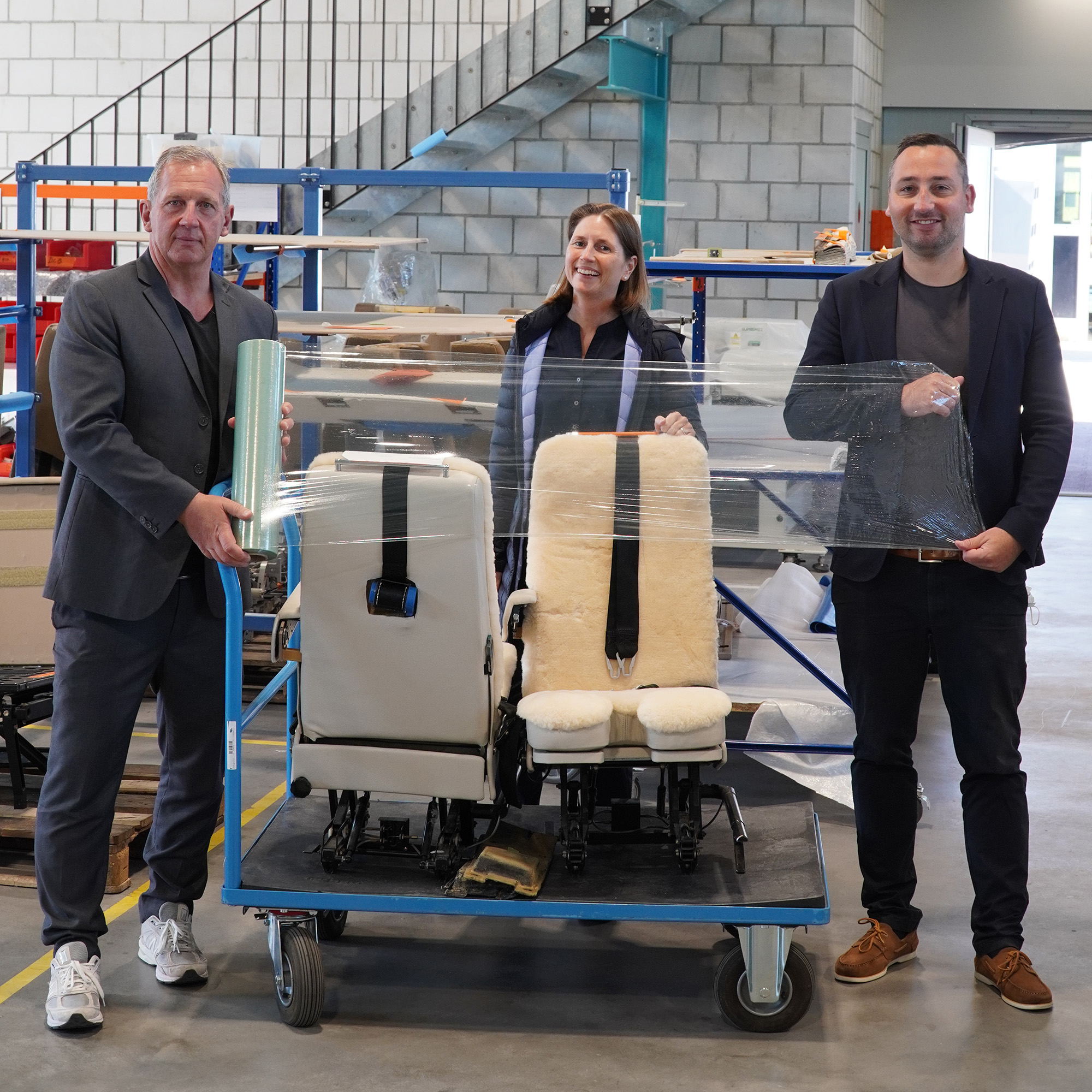 We had to use our full range of skills for this extensive refurbishment. We are pleased that we could use our expertise with this type of aircraft for the benefit and satisfaction of another Dassault customer.
Read more »