value retention in an exquisite style.
private and business operations
AeroVisto Champeau & Wilde
AirX Charter Aerocare Aviation Services Champeau & Wilde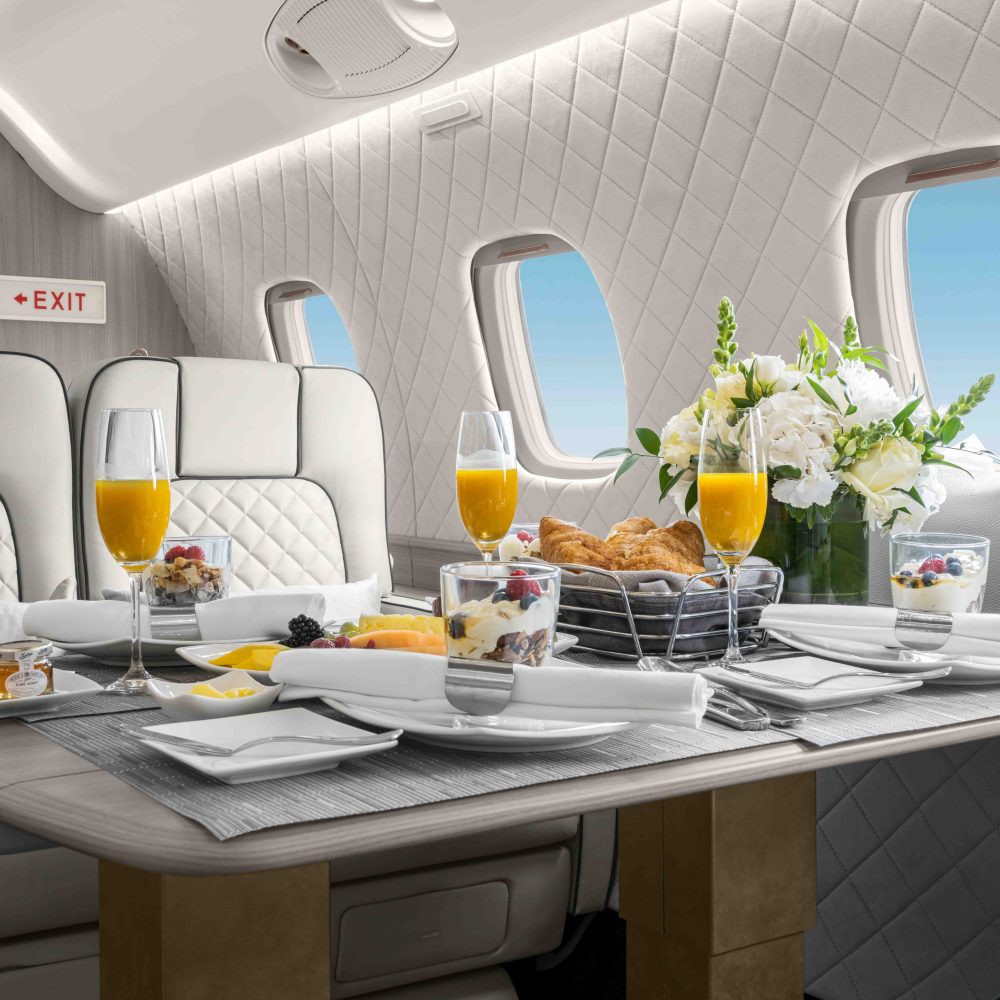 Business and private jet refurbishment does a great job of preserving existing values. Aircraft that have already been produced are reconditioned and brought into good shape to be used for many more years and flying hours in operational service — for the benefit and delight of their owners. This is precisely the case with this Embraer Legacy 600. This aircraft, which had already been in intensive service for a long time, was acquired specifically to give it a second life through heavy refurbishment. We are pleased that we could make the cabin of this aircraft appear in new splendor again.
Value retention in an exquisite style.
The design of this Legacy 600 is reminiscent of what is known from larger VIP aircraft. And that is no coincidence. The owner of this jet also has a BBJ and wanted to transfer the look and feel of his wide-body aircraft to this Legacy 600. The transfer of the design to the new aircraft model was handled by the experienced design team of Champeau & Wilde from Paris. This was indeed a challenge, because while a BBJ has many long and straight parts, the narrow-body cabin of the Legacy consists more of small and round elements. The result, however, is an absolutely coherent and attractive overall appearance, which we have realized in close coordination with the designer based on detailed renderings.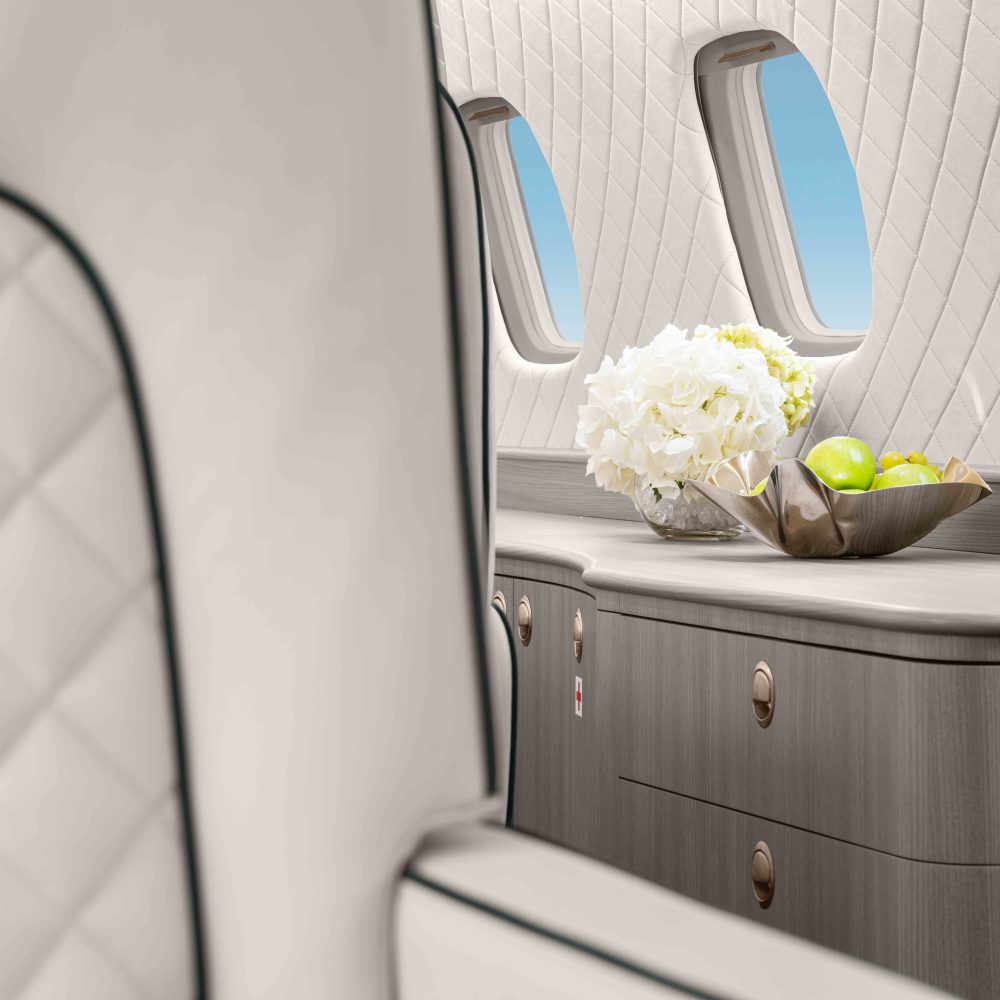 When you enter the cabin of this jet, one thing immediately catches your eye: the long windowliners with an elegant diamond stitching pattern. Covered with TAPIS ULTRASUEDE®, a supple, non-woven, luxury fabric made of fine microfibers, these elements give the interior a very high-quality and luxurious finish. This timeless, exclusive design is also found on the passenger seats and divan, which are completely upholstered in high-quality leather and complete the appearance with color-contrasting piping. All wooden parts were finished with matching Decor Film Applications. The bright decor of the surfaces and the white countertops make small spaces such as the galley and lavatories look exceptionally spacious. Other cabin highlights include the VIP art carpet installed by AirX and the striking, golden shimmering headliner, which required us to use a unique technique to implement.
Art meets
timeless luxury.

Retaining the value of existing private and business jets involves a lot of work. And the older the aircraft, the greater the effort. This is what we experienced with this time-honored Legacy 600. After the aircraft was transferred from Singapore to Chester (UK) and the disassembled parts of the cabin arrived at our factory in Staad, a lot of preliminary work had to be done before we could start with the real upgrade of the interior. The actual level of wear of various elements must be checked and repairs made. Where there are no suitable spare parts, replacements must be skillfully created. Last but not least, many tests need to be done to ensure that the existing components can be certified for aviation use in conjunction with the new finishing materials. This takes time, good planning, in-depth knowledge and a great deal of dedication.
A lot of work and
effort to make it shine.
The heavy refurbishment project of this Embraer Legacy 600 is also a story of efficient cooperation between professional teams. The success of this project was contributed by the staff of Aerocare Aviation Services, where the aircraft was standing and received a beautiful new exterior painting. The colleagues from AirX Charter were responsible for the maintenance. And the team of Champeau & Wilde was always there to advise us and to ensure, with a keen and trained eye, that we fully realized the customer's design vision. We thank all participants for the effcient and successful cooperation!
An effcient and
successful cooperation!
We had to use our full range of skills for this extensive refurbishment. We are pleased that we could use our expertise with this type of aircraft for the benefit and satisfaction of another Dassault customer.
Read more »