Looks and feels like a big one.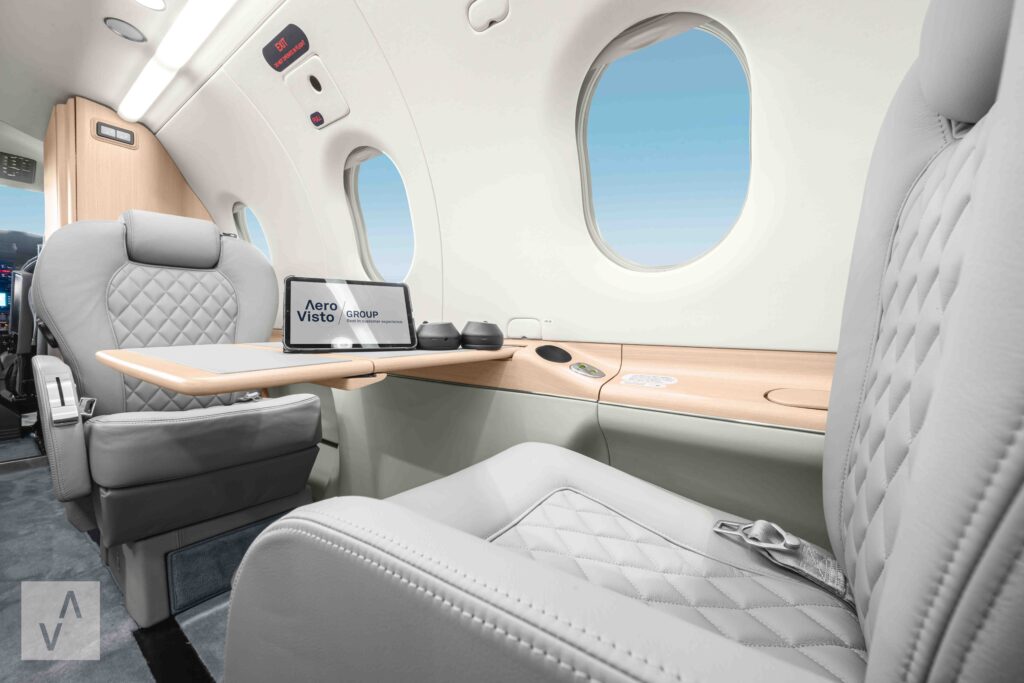 A Pilatus PC12 will always be appreciated, even if you have some larger business jet in your fleet. These aircraft are known for their versatility, performance, and reliability. This is also the opinion of the owner of this PC12 from Bangladesh, who has given his machine a notable upgrade. The owner decided to order a heavy interior refurbishment to ensure that the aircraft's cabin is equal to the comfort, look, and feel of the heavy jets in the fleet. Up to now, it has been the most extensive upgrade that we at AeroVisto have carried out on a Pilatus PC12.
One challenge in this project was that the components of this PC12 were approved in Bangladesh. So, to comply with aviation regulations, we underwent a corresponding audit at our factory in Staad (CH) and obtained the necessary CAAB Form 1 approval.
As part of our logistics services, our team packed the dismantled parts directly on-site at Dassault in Geneva and transported them to our manufactory.
The passenger seats were reupholstered with a diamond stitching design and leather with stay-clean technology. The surfaces received a Decor Film Application finishing. TISCA manufactured the new carpet. In addition to the plating of all parts, new seat belts, and mirrors, the cockpit has been completely refurbished. The cabin also received new window shades.
After extensive work, we could hand this beautiful PC12 back to a satisfied MRO partner and, more importantly, to a delighted customer.
Now, this Pilatus PC12 really looks and feels like a big one!
AeroVisto Interior Services AG is a certified Part 145 EASA Maintenance Organization and a Part 21G EASA Production Organization and delivers the needed documentation with every service. This includes the Engineering Order, STC, Major Change, Minor Change Certification and EASA Form 1. We take care about the complete coordination of the certification including flammbility sampling and testing and interaction between our production engineering and the corresponding team of the approved EASA 21J Design Organisation.