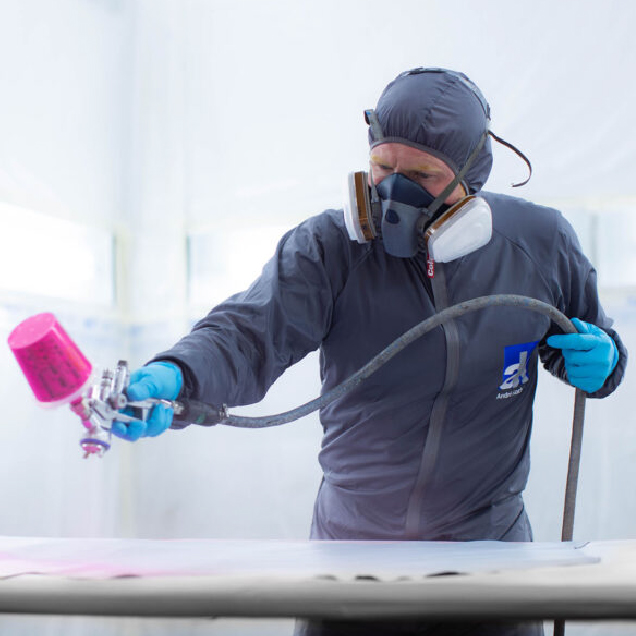 Old interior in new splendor
Leather repair & recolouration
Leather seats are a must on a business jet. They not only provide a high-quality ambience, but also guarantee the comfort that passengers desire for a private jet flight. Leather seats are also the element in the interior of a business jet that is used the most. As a result, the wear is very strong and the risk of damage, stains, cracks other signs of wear high. That's why renewing the leather upholstery often plays a key role in interior refurbishment projects.
But tight deadlines and budgets do not always allow the entire leather interior to be completely and high quality renewed. In such cases, leather recoloring is an interesting option. The leather is not replaced, but optically refreshed by painting it in the chosen color. In some cases, seats do not even have to be broken down into their individual parts. The advantage: In addition to an attractive price-performance ratio, the recoloring can be carried out quickly. Tight schedules and budgets are no longer a problem.
Years of experience and modern equipment
Thanks to our many years of experience and high-performance technology, we at AV / Interior Services can implement almost any customer request. Thanks to our two modern paint booths, in addition to classic saddle solutions, we can also realize interiors with unusual color variations that give a business jet a very special touch. We guarantee that the chosen colors and materials always comply with the safety requirements of aviation.
Expert Advice from Refurbishing Experts
If our customers want it and it is technically possible, we also carry out leather repairs in our factory in St. Gallen. As a result, existing leather upholstery shines in a snap in new splendor and gives the aircraft interior back the high-quality appearance that passengers expect in a private plane. For leather repairs, no large investments and long downtimes are needed.
Leather repairs and recoloring are a very interesting alternative to classic upholstery services when time constraints and budgets play an important role in refurbishing projects. We advise our customers in detail on these topics and show them the possibilities, but also the technical limits of this alternative.
AeroVisto Interior Services AG is a certified Part 145 EASA Maintenance Organization and a Part 21G EASA Production Organization and delivers the needed documentation with every service. This includes the Engineering Order, STC, Major Change, Minor Change Certification and EASA Form 1. We take care about the complete coordination of the certification including flammbility sampling and testing and interaction between our production engineering and the corresponding team of the approved EASA 21J Design Organisation.