discreet elegance – or how to strike the right tone in a smooth project.
Private and Charter Operations
ASL Private Jet Services Rijnmond Air Services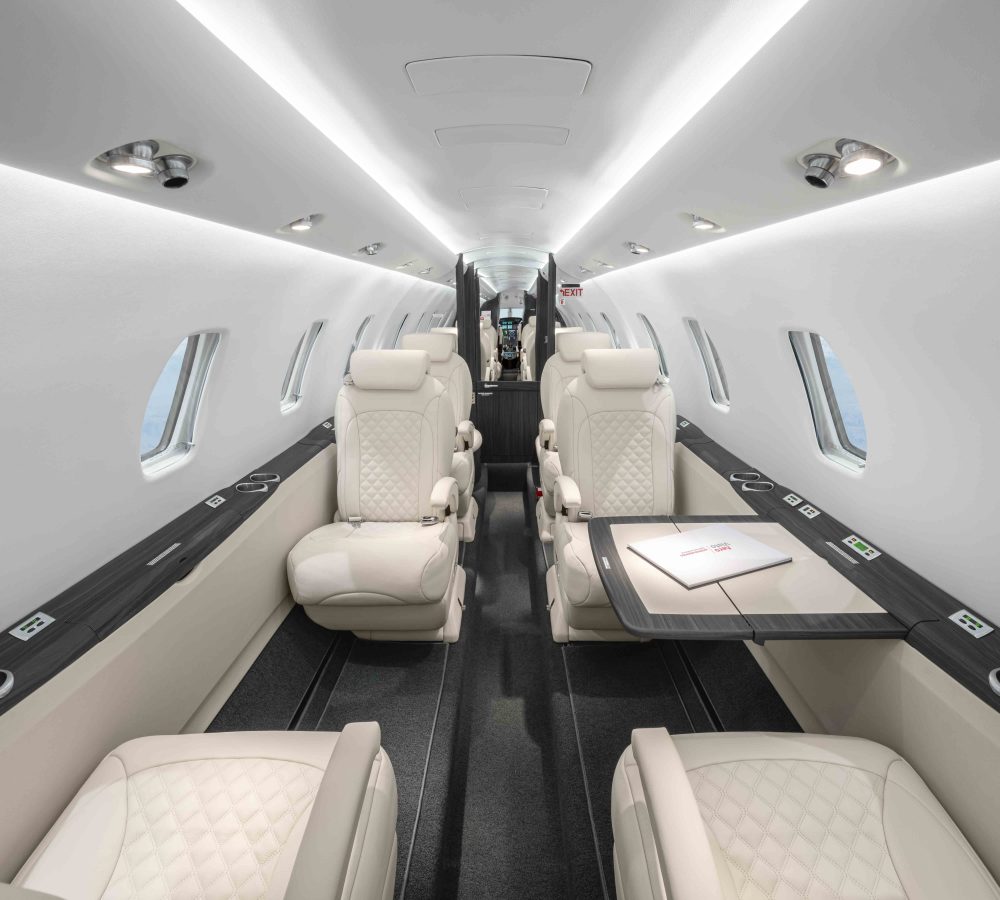 Especially extravagant ideas and outstanding details – some believe that this is what makes the interior of a private business jet special. At AeroVisto, we know from experience that it doesn't have to be that way. Sometimes you just must STRIKE THE RIGHT TONE. This can be seen very well after the refurbishment of this Cessna Citation XLS, which we recently accomplished in cooperation with Rijnmond Air Services (RAS) in Rotterdam for their sister company ASL Private Jet Services.
discreet elegance – strike the right tone
We have a long-standing partnership with ASL Private Jet Services and Rijnmond Air Services and a real trusting relationship. In the past years we have realized several business jet refurbishment projects together. About 3 years ago a Citation XLS was one of them, which has been used in charter operations at ASL since then. And that is the beginning of the story for this great Interior. How so? A frequent customer of ASL, who flew regularly with this aircraft, decided one day: I would like to have such a business jet too! And it shouldn't be just any XLS – it should be "his" XLS, modernized in look and feel as he knew it from his favorite charter plane. No sooner said than done!
ASL was commissioned to search for a suitable machine. The right XLS was found in Italy and brought to Rotterdam for the pre-purchase inspection (PPI). At the same time, we were asked if we could take over the refurbishment of the interior and if we could come to Rotterdam with our Mobile ShowCar for a meeting with the owner. Of course, we could! So, the design consultation and material selection took place with the owner directly in his new jet. This was a special moment in the project: the impressive facility of ASL, the new Cessna XLS next to the XLS that served as a source of inspiration, our ShowCar and a great atmosphere among the people present.
As many know, the Cessna Citation XLS is a unique aircraft model. It offers a reasonable range, good comfort, and that at a rational cost. In short, the Cessna XLS offers a lot of value for money and is a real workhorse. There is only one problem: the interior of available used aircraft on the market is often just … ugly. But that can be changed!
With this XLS, too, the condition of the interior was not the main reason for the refurbishment. Rather, the owner wanted a cabin with a personal touch in which he and his guests could feel absolutely comfortable. It was to be a modern and elegant interior. A design with flair and fine accents, but still discreet and neutral. This was important, because in the planned charter operation, a wide variety of people would be flying on the plane – and tastes, as we know, are very diverse. So, we absolutely had to strike the right note.
In conversation, our CEO Carsten Matthiesen quickly noticed that this customer was already very familiar with some business jet cabins that AeroVisto had realized in previous refurbishment projects for ASL. Inspired by these design impulses, the owner already had a very precise idea of how the interior of his XLS should look and feel. 

As with so many projects of this type, the most detailed discussion was about the question: what do we do with the wooden surfaces? That's understandable, because it's the design of plain surfaces that strongly influences the overall effect of a cabin. In the end, however, the decision in favor of Decor Film Applications was not particularly difficult. On the one hand, such a striking pattern and look can only be achieved with this technology. And on the other hand, the advantages of this very robust and easy-to-clean surface finish are clearly visible – especially if you plan to use a machine for charter operations as well.
Other highlights of this interior is the completely customized leather with Stay Clean Lifetime+ Technology, in a color shade that is not available off the rack. Leather inlays were retrofitted in the tables. This gives a great look and feel and is also practical, as the surfaces are less slippery. The passenger seat has received a visual update with a custom stitching pattern. Another nice detail are the inlays in the side ledges. The areas where the arms rest have been covered with Ultrafabrics® from TAPIS. This does not only look good but is also very comfortable when in contact with the skin.
All in all, the refurbishment of this Cessna Citation XLS was a very smooth project. On the one hand, this is due to the good cooperation with Edwin Sipkes (the project leader) on site and the already well-established communication between us and the RAS team in Rotterdam. On the other hand, it is also since so many Cessna Citation XLS have already passed through our manufactory that this aircraft model feels like an absolute Home Game for our team.
We are pleased that we together could hand over another XLS, with an interior worth seeing to the happy owner. And we are happy that with this decent and elegant, but still individual design, we have struck the right note.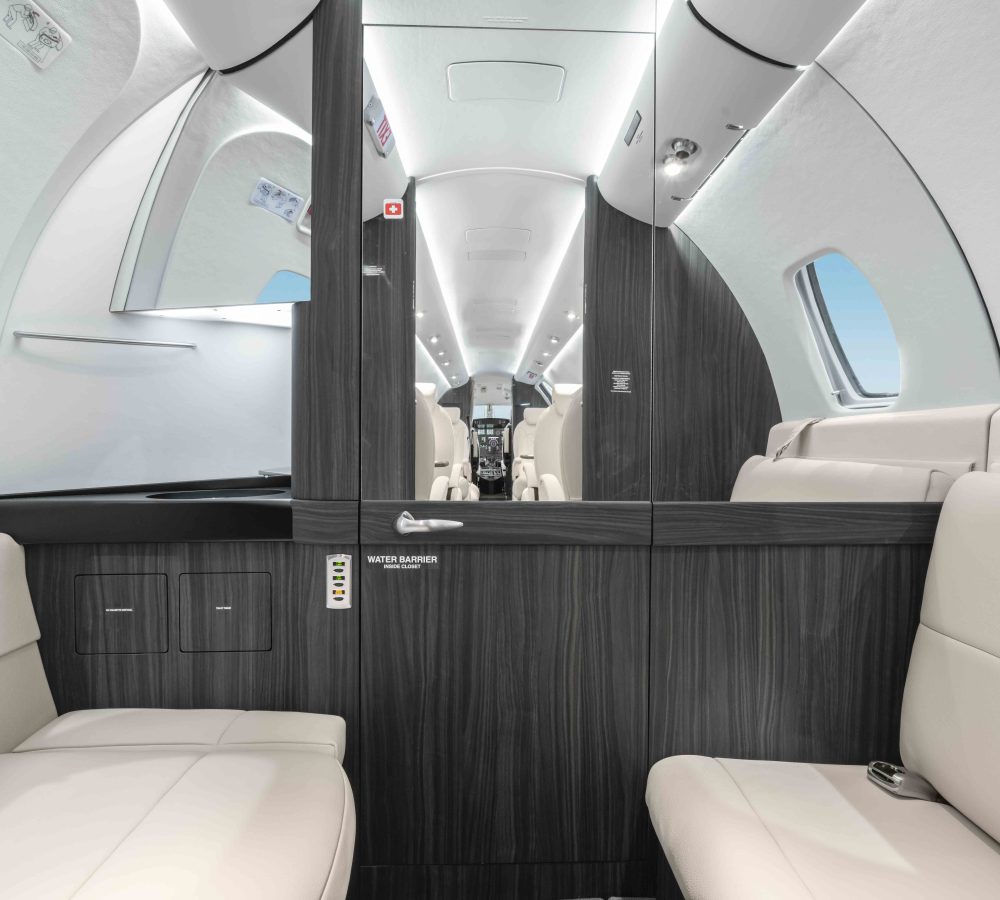 From the creative heads at Winch Design London, via the artist we had the pleasure to work with, to the numerous men and women at AeroVisto, a lot of heart and soul and countless work steps have flown into the cabin of this private jet to realize a complete and artful metamorphosis.
read more »